In Duct Whole House UV Air Purifier
According to the EPA, indoor levels of pollutants may be 2 to 5 times—and occasionally more than 100 times— higher than outdoor pollutant levels. DuctVac NW Spokane helps protect against indoor air pollutants that have been ranked among the top five environmental risks to public health.
Remove Odors, Molds, Allergens, and Kill Viruses!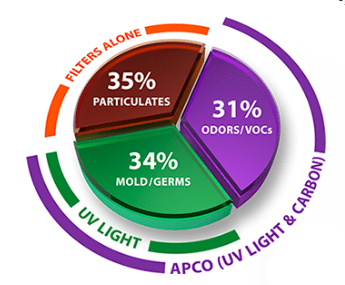 How Does UV Air Purification Work?
The UV Air Purification system is installed by DuctVac NW Spokane Professionals in the ductwork of the central air system. It filters and cleans the air with a unique combination of UV-C light and activated carbon, which provides unmatched germ and odor reduction without producing any harmful ozone. Air purification is especially effective in reducing odor-causing volatile organic compounds (VOCs), which include toxic chemical vapors like formaldehyde.
UV Whole House Air Purification Benefits
Airborne contaminants are commonly divided into three categories.
Particulates
Odors/VOCs
Molds/Germs
Conventional filtration systems are effective against particulates, like dust, but have no effects on odors/VOCs or molds or germs. The UV Air Purification system is proven to safely reduce both VOCs and biological contaminants, both inside the air system and throughout the entire home.
Activated carbon and germ-killing UV-C light work together to remove odors, chemicals, and biological contaminants for the lifetime of your air system, keeping it cleaner and extending the life of the system.
In Duct UV Air Purification Eliminates Odors!
Clean air is much more important than most people realize. It can cause embarrassing odors in your home and even cause illness if left unattended for too long. Let us provide you with a free inspection of your Air Duct system before finding out the hard way.